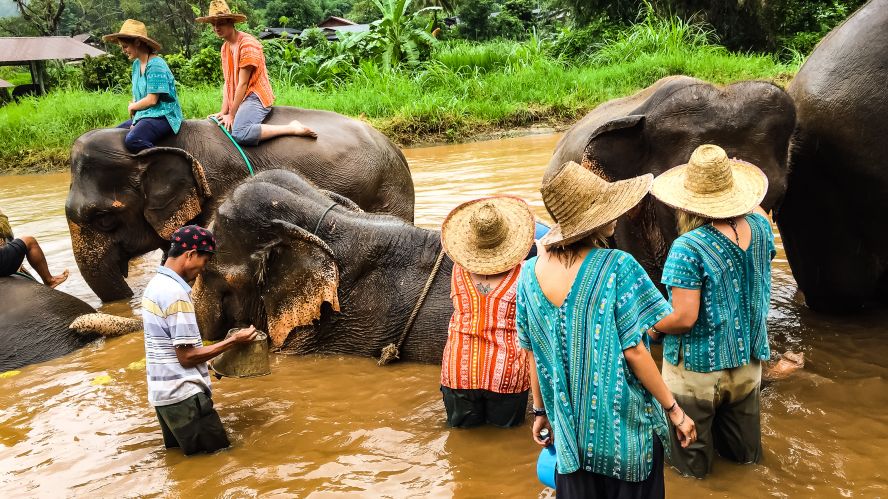 If anyone said Chiang Mai is a cooler weather-wise because of its higher elevation, don't believe it. It's hot and humid, just like Bangkok. This oppressive heat caused me to succumb to a Tuk-Tuk ride. A Tuk-Tuk is similar to the tricycle found in the Philippines. It's a small three-wheeled covered vehicle run as a taxi that can whip in and out of traffic.
I did not know much about Chiang Mai except that people talked about the city as a top destination in Asia. It's in the mountains so it must be cooler? Well, the scenery there is greener, less a concrete jungle like Bangkok.
What I like about Chiang Mai is that it is a smaller city and more comfortable to get around than Bangkok.
Chiang Mai is the largest city in northern Thailand and once, way back when, the capital of what was then Laos. It is about 435 miles north of Bangkok and located among the highest mountains in the country. Its history binds it with its neighboring countries to the north, Burma, and Laos. There is a moat around the city to protect it from its enemies, which included the Mongol Empire at one time.
I paid a little more to get a reasonable flight schedule on Thai Airways, the flagship carrier of Thailand. Thai Airways had always had a charming reputation, and I was glad to see that it hadn't changed. Thai Airways is part of Star Alliance so that I could get American Airlines points. Bangkok Air, a regional carrier, is an option. However, they fly out of another airport in Bangkok (DMK) with a shuttle service from Suvarnabhumi (BKK) international airport.

In Chiang Mai, I booked a reservation at the Le Meridien. I wanted to book the Shangri La, which offered a special rate but, alas, I went for the SPG points. The Shangri La is one of the upscale hotel chains of Asia, and I considered treating myself to a pleasant stay. I told myself I would be a nobody at the Shangri La, but my SPG status would ensure some VIP treatment at the Le Meridien. My SPG status does not give me a lot of extra perks except recognition. Still, I have never had a disappointing stay at a Le Meridien.

Compared to Bangkok, everything in Chiang Mai was a steal. I booked two tours, the elephant ride, and the traditional Thai dance. There was a museum I could easily walk to, and I planned to explore the art scene in Chiang Mai.
I had a few hours to kill before dinner and the Thai dance, so I decided to walk to the museum in the center of town. It was all of three or four blocks, but the Concierge was insistent that I take a Tuk Tuk which is a glorified motorbike with seating. The heat was fierce, and after a block or two, I needed water, a fan, and a hat!
Voila! A friendly Tuk Tuk driver saw the sweat in my face and offered to take me around the city for 50 Baht (less than $2.00). I jumped in relief to have the shade and a slight breeze! Now, there are 300 temples in Chiang Mai. By the time I got to the second, I was all "templed out." So my friendly Tuk Tuk driver suggested going to the silk factory and a silver factory. Although I knew both were tourist traps, I am never one to turn down a shopping trip.

What I didn't know was that the factories were close to the airport, which is some distance from my hotel downtown. That day was a full moon, and that meant, according to my friendly Tuk Tuk driver, temple visiting day. I could bear the traffic, but not the dust and fumes coming at me! By the time I returned to the hotel, I felt my face was thick with dust and sweat, and the smell of gas or diesel filled my lungs!
The Thai dance is more stylized with very ornate costumes. In the beginning, the classical Thai dance was for Royal performances only but evolved to become a theater dance form. I've always known Thai dance to be very choreographed with beautiful colorful Thai silk costumes, masks, and headdresses. Footwork and hand motions are distinct. Women wear gold fingertip extensions to elongate their arms. I was looking forward to the evening dinner dance.
Ok, I get it. It's not the national performing troupe. However, for a local group, they put in a reasonable effort, and I got a good sense of the stories, ethnic costumes, and dances. But it was an hour too long. After the dinner, they took us to the courtyard and showed a few more dances that would have been riveting if the performers showed a little more life. I came with a group, so there was no way to leave gracefully.
The next morning, I was ready for my "photo op" with the elephants. First of all, I was picked up by the wrong tour bus. They were at the hotel to pick up some Chinese guests, and they assumed that it was me! Oh yes, there is stereotyping in Thailand, too. When the right tour bus arrived at the hotel, the tour guide was a young African American woman named Elizabeth. You can't imagine how happy I was to be able to speak English in full sentences again!
Elizabeth was filling in for the regular crew of the Ram-Tong Company. Elizabeth said that she took the tour three or four months ago and loved it and started volunteering. She was in Chiang Mai to learn Thai massage, and that day, she was filling in for guides who were on vacation. There were ten people in our group, more than half were Germans, and there were two Americans and a young Chinese girl. They were all millennials, and I was the sole baby boomer.

It seems the hotel concierge forgot to give me some instructions for the elephant trip. I need to wear a bathing suit and needed a change of clothes. I wasn't about to leave, so I had to make do with what I was wearing. They gave us some work garb to put over our suits and a hat because it was raining. We were barefoot and walked through the mud. Our elephant's name was Rocky, and he was an ornery one. Being the youngest male in the pack, he refused to stand still enough to pick up his two human passengers. Aida, my partner that day, took the front and sat around Rocky's neck, and I was in the back and sat right on top of his bony back spine! We were riding bareback with only a thick rope as an anchor.

I thought for sure I would first cry from sheer panic or second, fall and break my back, and finally, have the widest bow legs in the world. Do you see the panicked look on my face?
What I thought was a quick ride around that camp lasted 1 ½ hour. After our elephant ride, we had to bathe them in the watering hole. Like all young boys, Rocky did not want to wash and fussed to the watering hole. Imagine an elephant, slowly lowering his rear end to sit in the water with you hanging on to that rope for dear life. I got out earlier to protect my iPhone, but the other riders were very game about wading in the waters with the elephants and the elephant poop!
There were 27 elephants in the camp; most had been rescued from the forest or lumber camps. Some of the elephants were in bad shape, and they were being nursed back to health. The sanctuary was so small, tucked in a hilly forest next to a rice paddy. I compare this to the Aquila Game Reserve in Cape Town, where we were just a few months ago. Aquila was 300 acres of flat land that had two elephants. Ramp-Tong had 27 with a fraction of the area. Camps like Ram-Tong are trying to bring more awareness to the plight of the elephants in Thailand. With no government support, it is an uphill battle. The sad thing is, elephants learn to carry humans by being beaten to submission. Unfortunately, for many camps like Ram-Tong, catering to tourists is their only source of income.
I don't know when the night market became popular. I first encountered them in Singapore several years ago. These are outdoor stalls selling food and all sorts of clothing or souvenirs between 5-10 PM. Chiang Mai is one big night market. There is a night market every day of the week. During the weekday, stalls line the main commercial street outside my hotel. On weekends, the night markets are more extensive, located in the center of town. If you felt like browsing through a hundred plus stalls and didn't spend the morning on the back of an elephant, you might find some deals!
The Sunday market was so large that I was not sure whether I would be able to find my way back to the hotel. Luckily, I found a friendly Tuc Tuc driver who would take me for 100 Baht. The next day, I went to the regular night market just outside my hotel, which I found so much more
As I leave Chiang Mai and Thailand, I want to thank my new friend, Ulysses, who set up my little blog. He is in Chiang Mai to meditate in the mountains, but he keeps in touch with work and life via a computer and the internet. Gracias!